Quorum Products & Solutions

1-Click Instant Recovery

Quorum onQ appliance was engineered from the ground up to provide enterprise level Disaster Recovery Solution without the complexity or cost of traditional solutions. onQ One-Click Recovery puts all of your applications and data back online within minutes of a storage, system or an entire site failure. Deploy onQ to meet your needs—locally for High Availability (HA), remotely for Disaster Recovery or both as well as Hybrid Cloud Disaster Recovery Solution.
onQ Hardware Appliances

7 protected servers
Intel Xeon D1541 CPU Cores
5 TB Storage

7 protected servers
Intel Skylake 3104 CPU Cores
5 TB Storage

15 protected servers
Intel Skylake 4110 CPU Cores
Up to 50 TB Storage

30 protected servers
2 x Intel Skylake 4110 CPU Cores
Up to 50 TB Storage

40 protected servers
2 x Intel Skylake 4114 CPU Cores
Up to 50 TB Storage

50 protected servers
2 x Intel Skylake 4116 CPU Cores
Up to 50 TB Storage

240 protected servers
4 x Intel E5 -2650 v4
Up to 400 TB Storage
---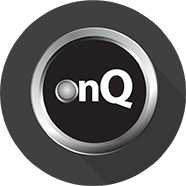 FLEXIBLE
A scalable hardware appliance, virtual machine, or a cloud service (DRaaS), onQ can be easily configured to fit your needs.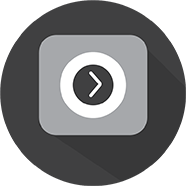 FAST
Our product is the fastest on the market, and with 1-click instant recovery we get you back up and running - instantly!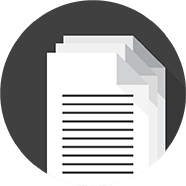 SUPPORTED
Personalized, immediate support and a dedicated Customer Success Manager protect your business.
Who is Quorum?
---
Quorum's all-in-one, easy-to-use, 1-click backup and instant recovery solution provides mission-critical data protection for all your servers, data and applications.
Quorum's onQ technology is built to instantly recover your servers, data and applications in minutes. You can deploy onQ with Quorum's purpose built appliances or on your own hardware. Your onQ protection will protect physical, virtual, and any connected data. onQ will replicate your entire data center and provide instant recovery offsite.
Quorum simplifies data protection by focusing entirely on a solution designed to easily protect your data. Our management interface is entirely web based—NO more software to install. Our backup scheduling is drop dead simple—just tell us your RTO and RPO requirements and onQ does the rest. We backup your servers using incremental forever—no more time consuming full backups to manage or replicate.
We deduplicate your data in two places—once at the time of a server backup—we then do a global deduplication before replicating to the DR. This means backups are fast…and you can backup your servers more frequent. This also means DR replication is efficient ensuring that your local data center and DR are always in-sync.
We offer the power of 1

1 company to protect ALL of your data assets, whether they are in-house physical or virtual or if you have public cloud resources. Our single solution will protect you against downtime, data corruption, Ransomware…regardless of the outage Quorum's onQ can recover.

1 vendor to manage all offsite protection. With Quorum's cloud DRaaS solution you only need to work with a single solution to deploy an enterprise grade business continuity solution with the simplicity of a mid-market solution

1 person to call when you need help. Comprehensive US based support comes with any onQ deployment. We are the single vendor to call if you need assistance when protecting your environment. Our team is here to make sure you get the most out of your investment.
Keeping Your Business Safe from Disaster
At Quorum, we know that every business is only as strong as its data is safe, and that even a minor disaster can spell trouble. Our suite of products are designed to make sure that you maintain data security and business continuity even in the face of a disaster. Speedy, efficient, and comprehensive recovery are vital to you, and our award-winning and patented Disaster Recovery as a Service (DRaaS) systems make you have them. Quorum products handle testing, data security, and disaster recovery. Our business is keeping your business open no matter what the circumstances, and our suite of products do just that. Find out which Quorum products are best for you!
Quorum onQ transparently maintains ready-to-run up-to-date virtual machine clones of your servers with all of their operating systems, applications and data. Each appliance can do it all:
Protect your data, operating system and applications
Monitor your servers
Actually run all of your applications right on the appliance automatically with just one click
One Simple Interface
---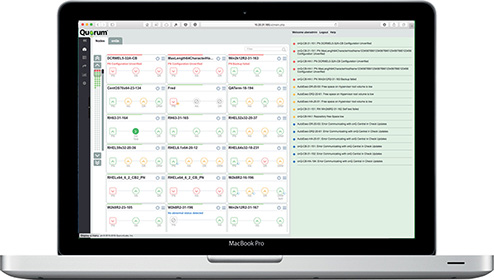 single view of entire environment
heat map identifies problems quickly
customize console with tagging and workflows
troubleshoot faster with central logging
Quorum got you covered on what you need
---
---
---
---
---